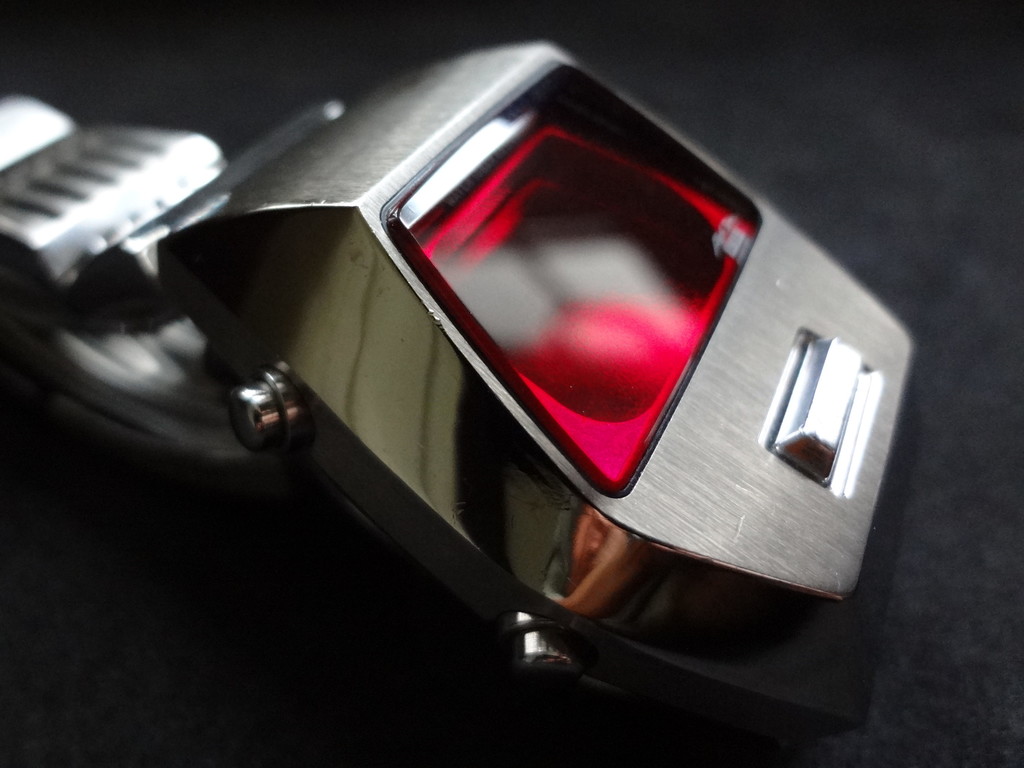 On Christmas Day of 1969, Seiko introduced the world's first quartz wristwatch, and thus began the quartz revolution. Five months later, the head of Research and Development at the then American-owned watch company, Hamilton Watch of Pennsylvania, John Bergey, went on a television talk show to present Hamilton's latest creation. Not so much a watch as new kind of watch, the Hamilton Pulsar Time Computer was the world's first digital watch. No hands, no dial, but instead, a blank, red, rectangular computer display "time screen", made of synthetic ruby, set in a thick rounded-rectangular case.

To show the time, Bergey pushed a button on the case, and three or four red digits, indicating hours and minutes, appeared on the screen for a second and then disappeared. The Pulsar Time Computer featured time-on-demand using a light-up-display technology known as Light-Emitting Diode (LED). In these early days of the quartz watch revolution, the sensational Pulsar was true to its namesake, a star, and the most famous LED watch of its time. Being revolutionary in its solid-state technology and space-age design, the Time Computer P2, pictured below, was imitated by many established Swiss watch manufacturers. This included Omega, who purchased modules from Pulsar to use in a number of Omega LED timepieces of the 1970s.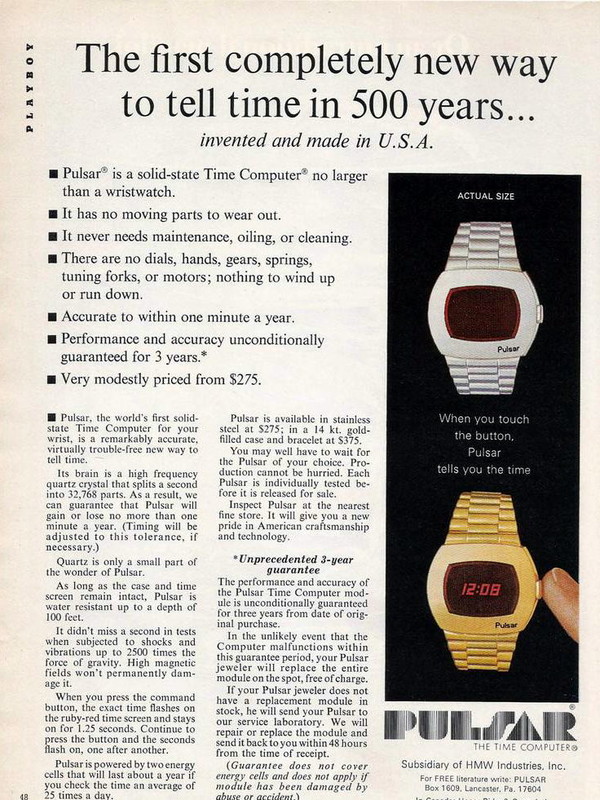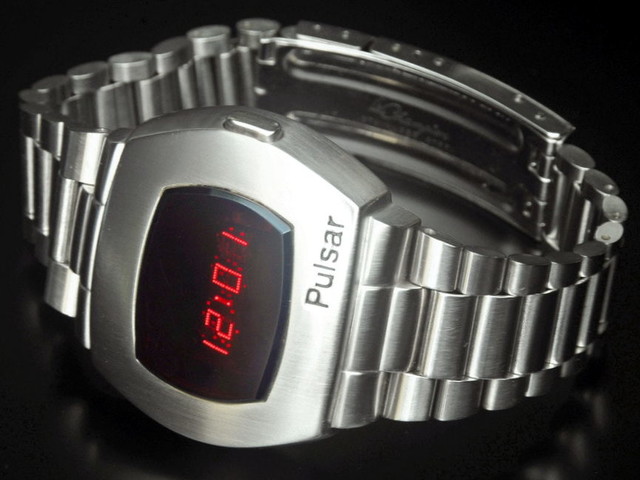 After a rather brief period of phenomenal success, the limitations of LED technology eventually caught up. These science-fiction-worthy watches were

cumbersome, required a magnet to change the time, and the battery depletes rapidly, resulting in very short battery life.

They were soon replaced by a superior technology, Liquid Crystal Display (LCD), which displayed the time constantly and is the standard for all digital watches we see today. While the Pulsar LED watches are a hit again today among vintage digital watch collectors, v

intage LEDs, in general, are disappointingly impractical as everyday watches in our modern time.





Fortunate for us watch

enthusiasts,

Seiko Watch Corporation

, who ironically now owns

Pulsar

, saw our frustration. Through their sub-brand

ALBA

in 1997

, the Japanese Manufacture created an LCD watch that pays homage to the historical

Pulsar

LED of the 70s, and introduced the

AKA W670-4000

.

The

ALBA "AKA" W670-4000 features the same Pulsar solid-state technology (though this time, LCD), same time-on-demand (push button to tell time), and same space-age design as the LED watches of the 1970s, but with 2-year battery life and 10 BAR water resistance. Bold yet so very old-school LED look, just without tears!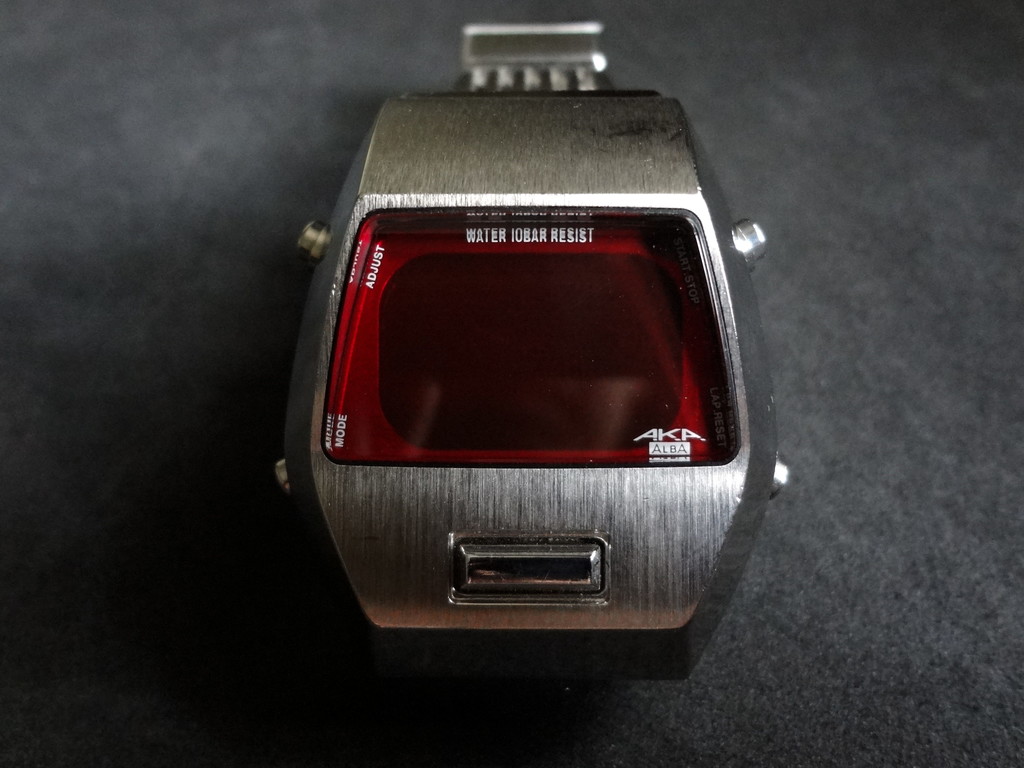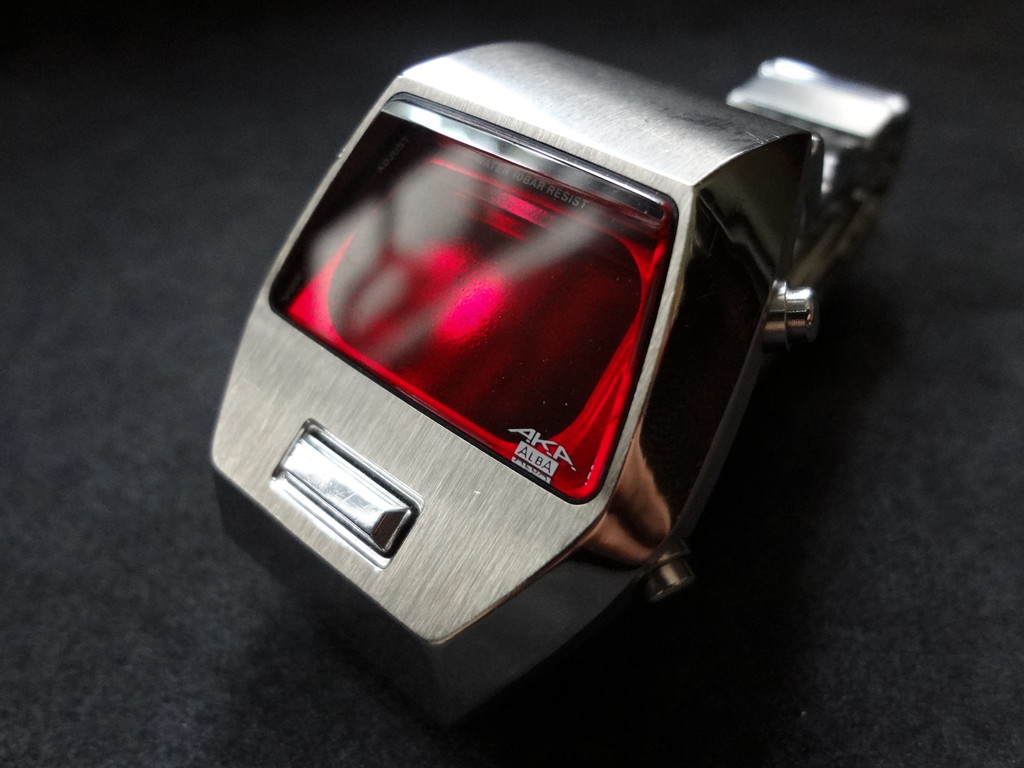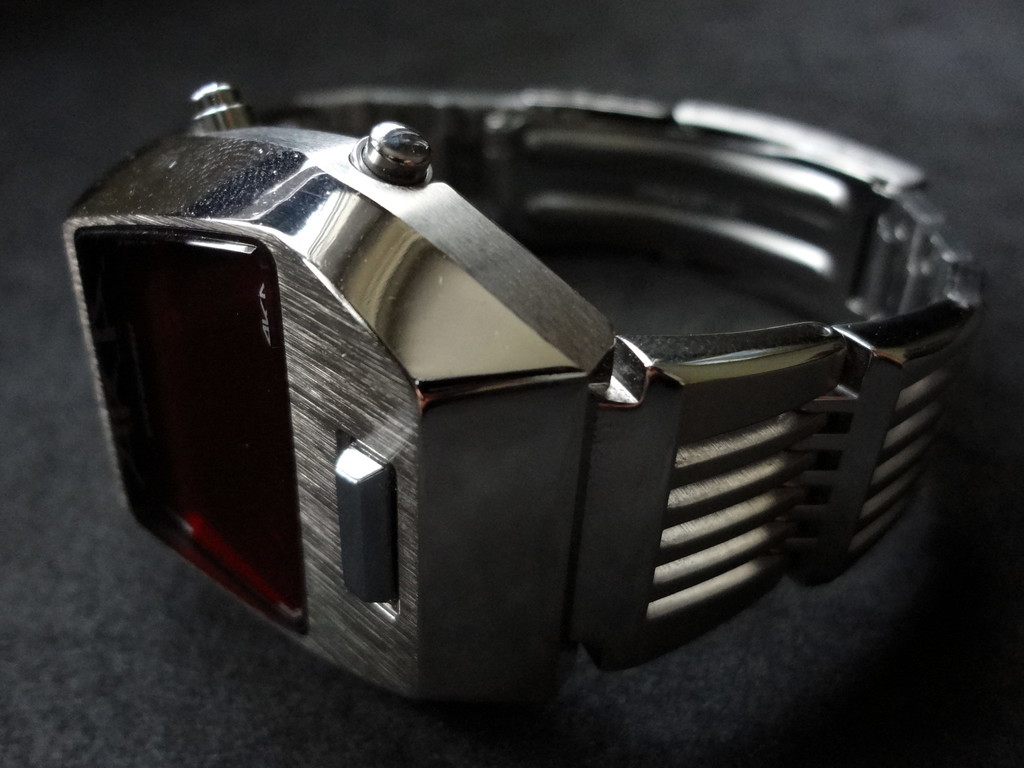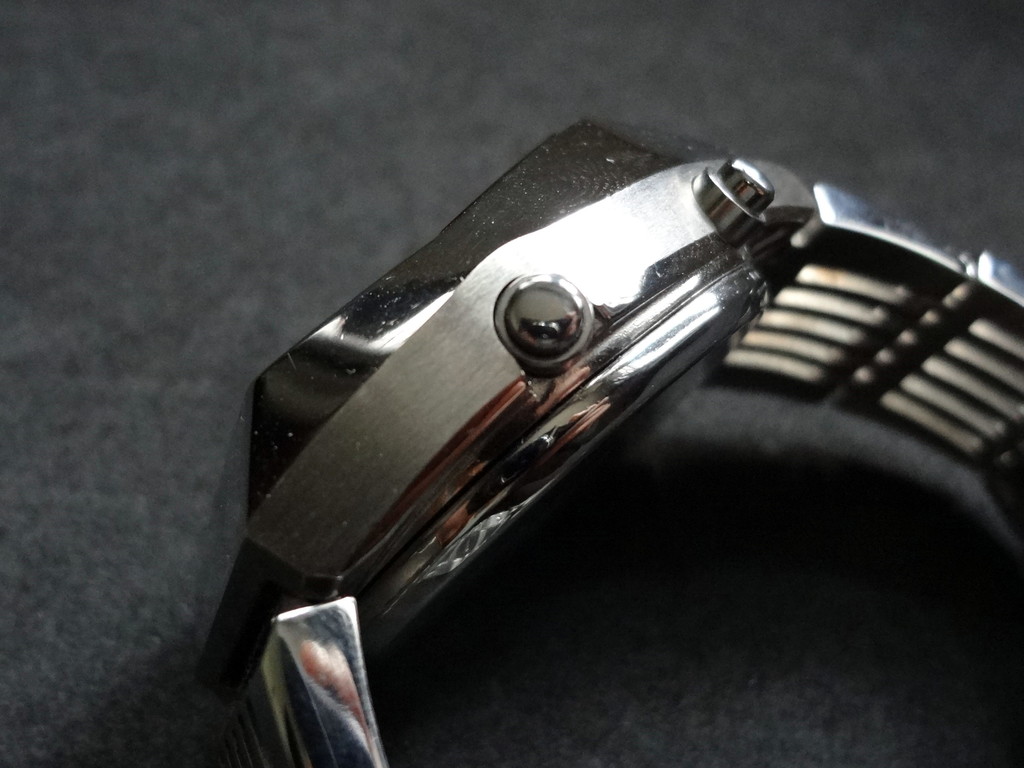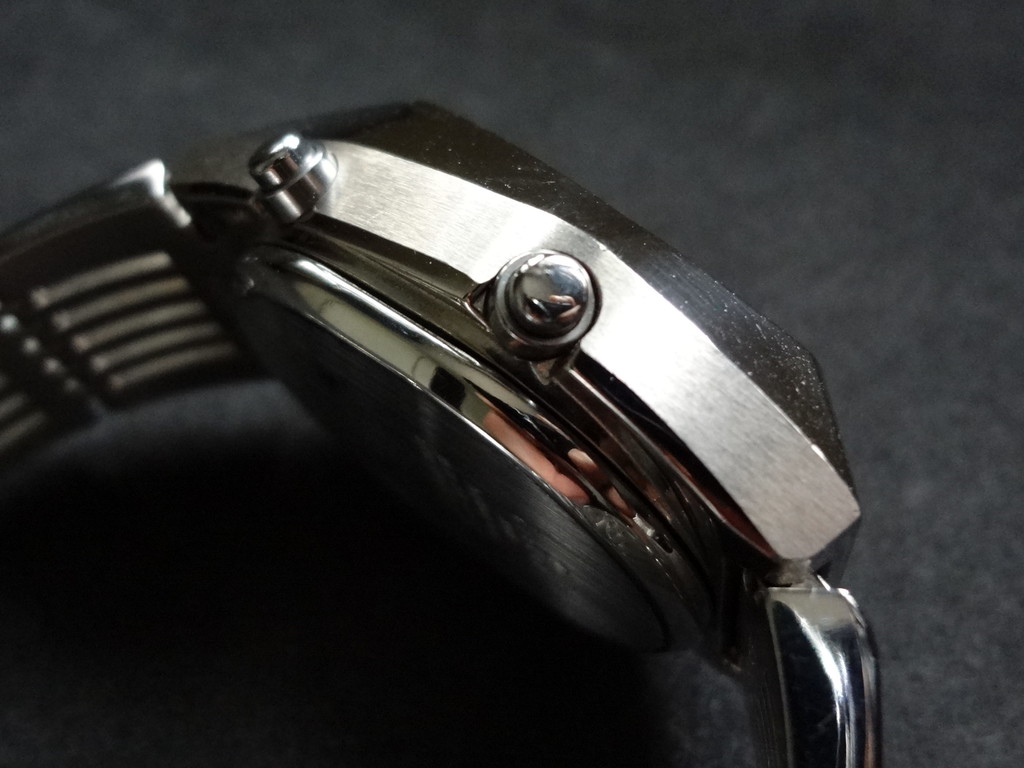 The AKA W670-4000 came with a stainless steel solid-link
bracelet that is, in itself, as unconventional as the 17-mm-thick head. Being rectangular, the W670-4000 wears larger on the wrist than its width suggests, and visually closer to a 42 mm watch.
Made in Japan for the Japanese Domestic Market (JDM), these W670-4000 were in production in 1997, and are rare to find in the used market today.
SPECIFICATIONS
MOVEMENT: Pulsar Digital Series PVH Cal. W670, Time/Calendar, Stopwatch, Countdown timer, Daily alarm, Auto-illumination light, Battery life 2 years
CASE: Stainless steel and base metal (Width: 37 mm, Lug-to-lug: 45 mm, Thickness: 17 mm,

Lug-width: 18 mm), Press-in case back


BRACELET: Original stainless steel solid links, Folding clasp, Stainless steel bracelet extender installed (fits wrists of up to 18.5 cm or 7 ¼"... upon request, I can install an additional bracelet extender, which will then fit wrists of up to 20.1 cm or 7 7/8")
WATER RESISTANCE: 100 m (by specs only, not pressure-tested)
MANUFACTURED: In Japan, October 1997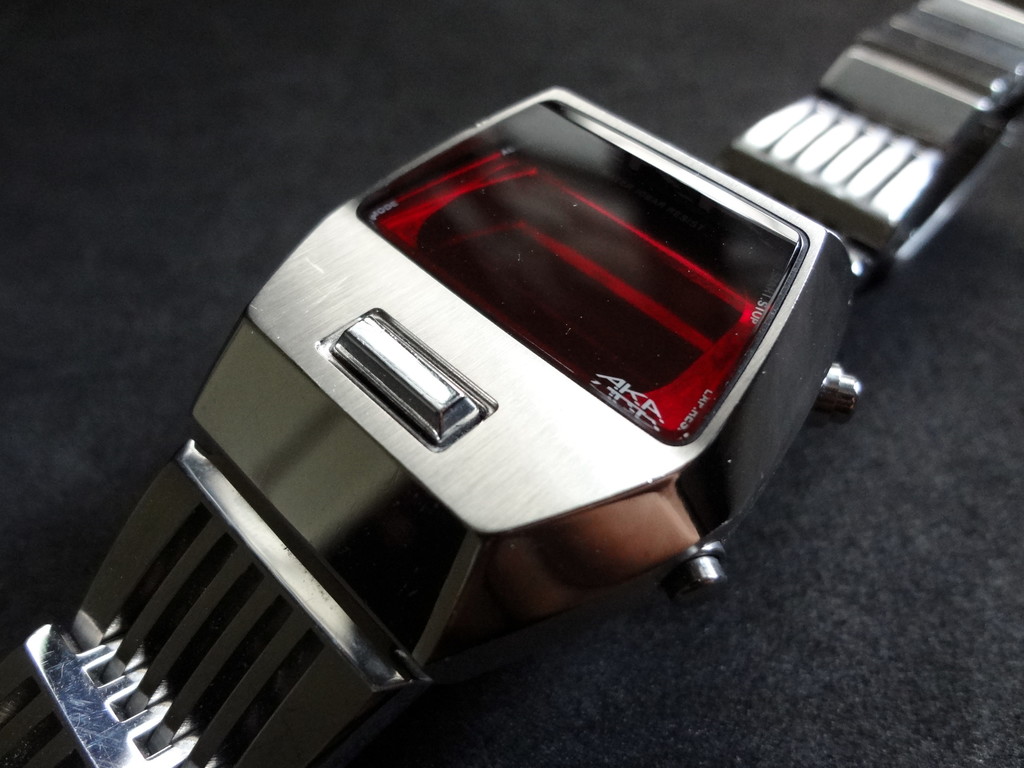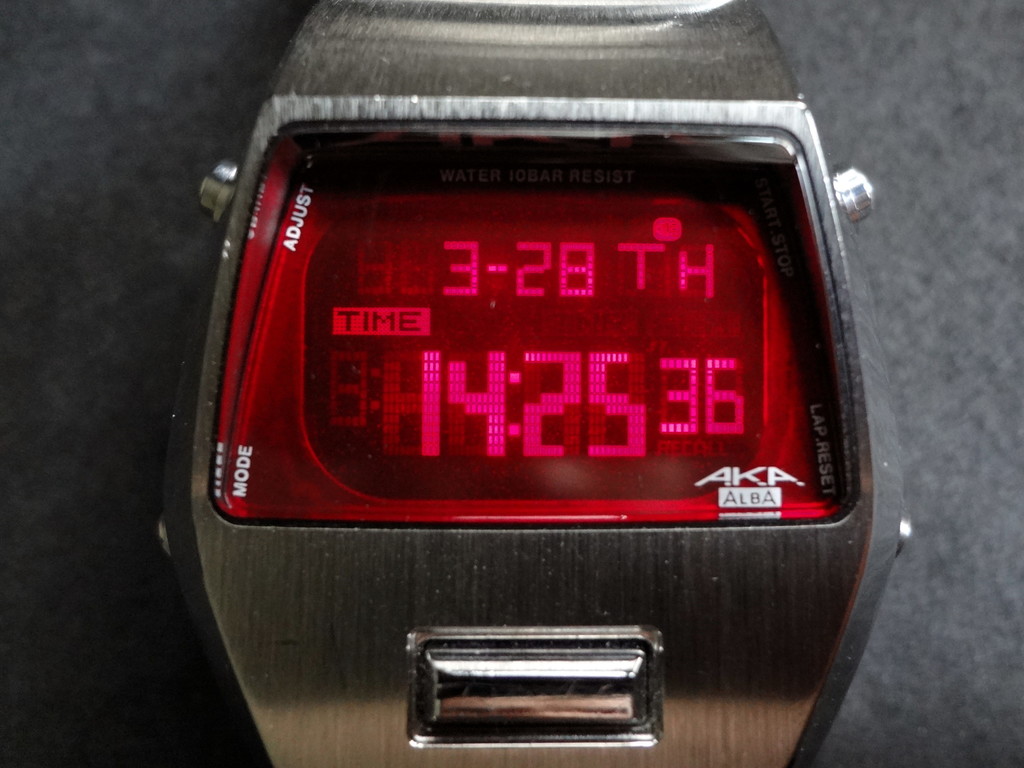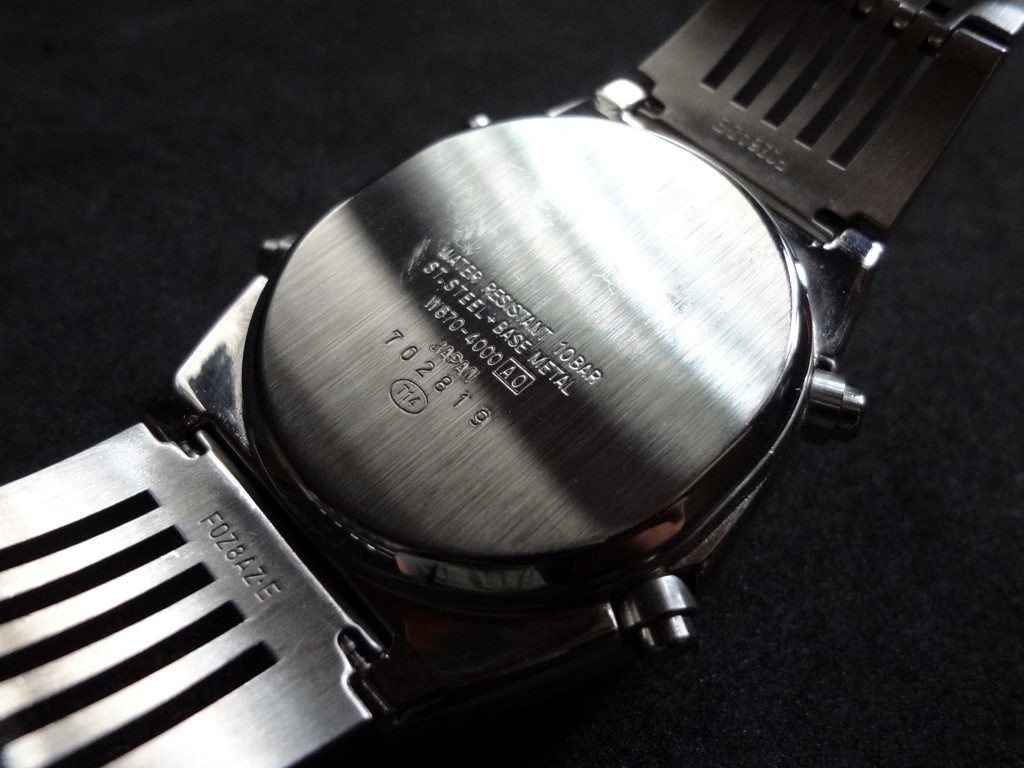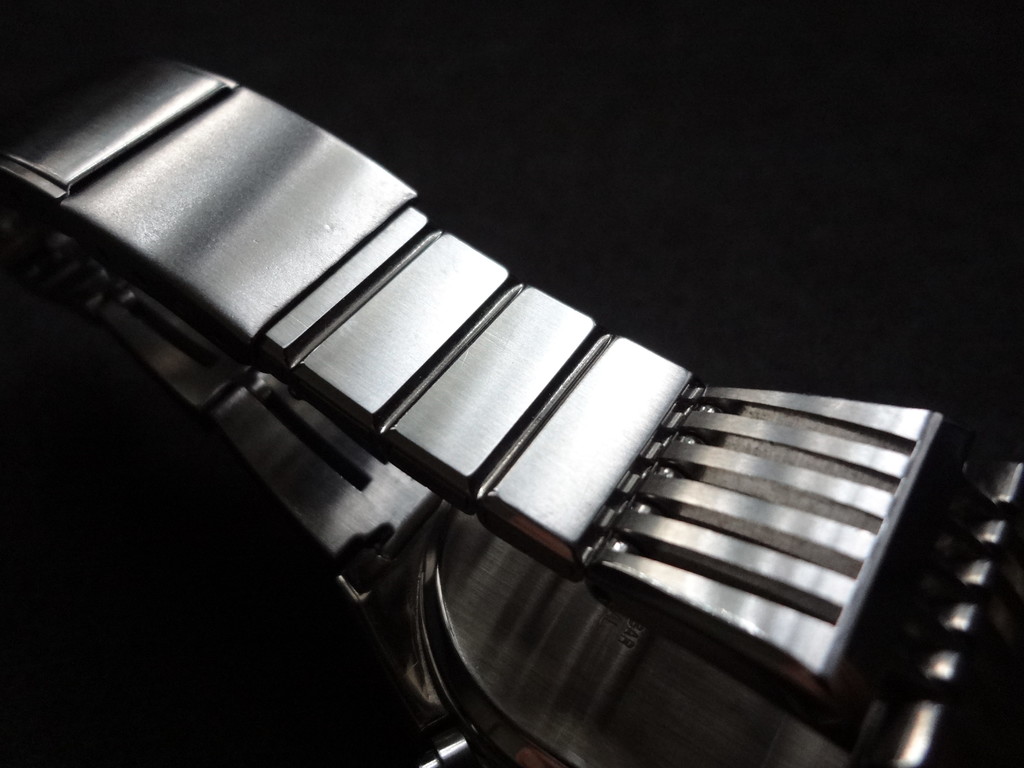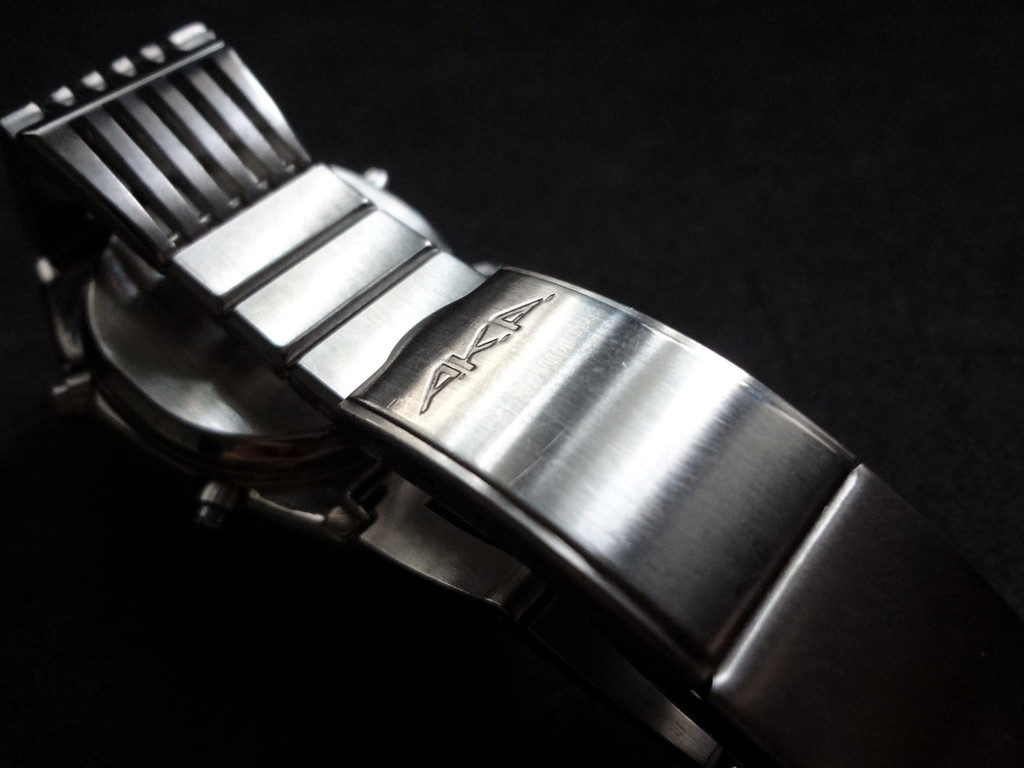 It is hard to believe that this 22 years old specimen is nearing vintage status. Overall, the condition rates TKNZ
"EXCELLENT" (91%)
, with only minute blemishes on the prominently tall case and angular bracelet. Being a second-hand watch originating from Japan, it does have a shorter bracelet than we in the West require. So, I have rectified this by installing a
stainless steel bracelet extender—please see from the last two photos above—and it now fits my wrist comfortably. The extender does blend in well with the bracelet's aesthetics, in my view. Upon request, I can install an additional bracelet extender, which will able the watch to fit wrists of up to 20.1 cm or 7 7/8".

The included photos form a part of my description—please study them well.
My watchmaker has installed a new battery cell
—the correct CR2025 type—
just three months ago
in March, so should be good until 2021. All functions operate as they should,
with the exception of tone/alarm,
i.e. t
he unit has no sound
. I have not attempted repair, and selling as is, asking price adjusted in accordance. The AKA LCD and I are located in Bangkok, Thailand, and plenty of references are available here on Timekeeper, and on TradeMe (https://www.trademe.co.nz/Members/Fe...member=2636310).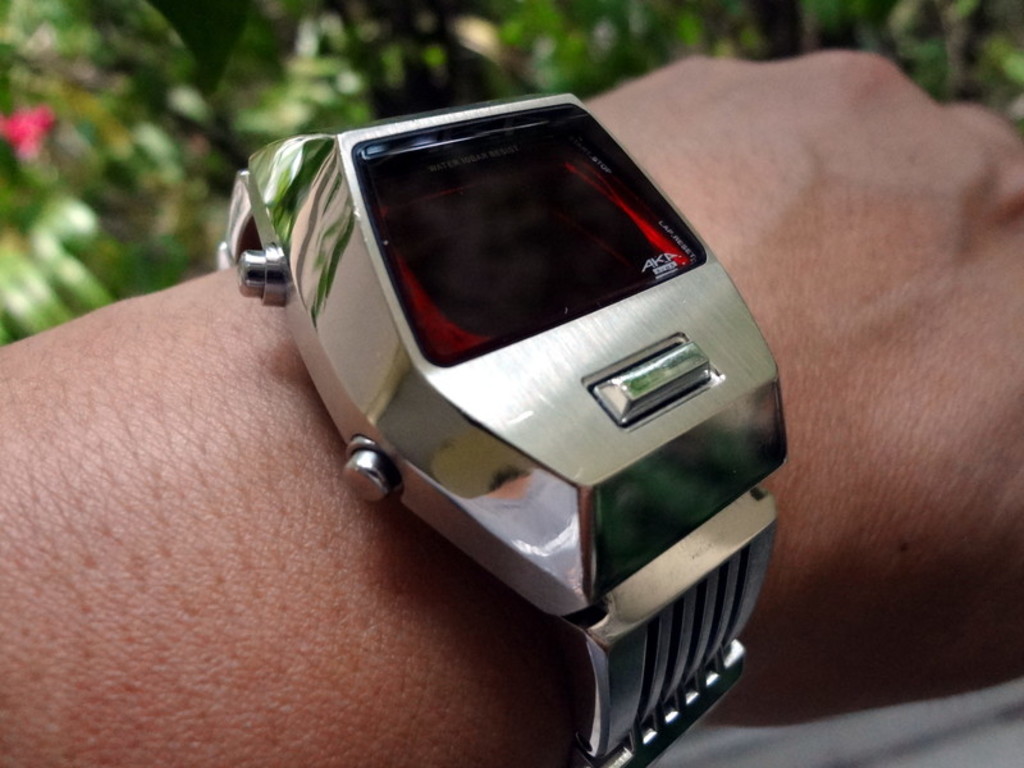 The asking price, in New Zealand dollar, includes delivery to NZ by Registered Airmail, with Track & Trace—transit time is approximately 10 business days. Payment will be to my
New Zealand bank account
, no different than if I were in Auckland. I can also accept
credit card payment
through
PayPal
, regardless of whether you have a PayPal account, and will absorb the fees. For all inquiries, please use Timekeeper's Personal Message (PM) facility.
Thank you for looking.
[WITHDRAWN]