20:18 UTC, 20TH JULY, 2169 AD
INTERNATIONAL CHRONONAUTIC ADMINISTRATION CHRONOPORTATION LABORATORY
LOCATION: CLASSIFIED
The only sound to punctuate the silence was the faint bleeping as the hyperconductor circuit switches between states. The pre-chamber was a familiar place, having spent hundreds of hour in this small white-walled confine. It could have easily been just another day of training, if not for the crowd gathering in the viewing room overlooking the pre-chamber and the chronoporter attached. Today is different. Today will be the first time that he—or for that matter, any single human being before him—will leave this room, through a way other than the door.

Today is also the Bi-Centenary of the first Lunar landing in 1969, and 50 years since man has stepped on the frozen surface of Europa, Jupiter's moon. Man has conquered the expanses of space in ways never before possible. But today, the ultimate frontier will be conquered, the impossible realized, fiction turned into non-fiction, dreams made history. This time, no distance will be traveled. No space suit or breathing apparatus is required. The trip will only last 15 seconds each way, and he will return here, to this pre-chamber, in precisely 2 hours and 30 minutes.

But unlike space exploration, his voyage will usher in a new world order--one where the boundary of Time itself will be broken.

As outlined in the International Chrononautic Administration (ICA) operations procedure, chrononauts must return to their point of origin, but not to the same time co-ordinate, as doing so would disrupt the biological entity transported through time. This means that, when a chrononaut leaves the origin for a 10 hour mission, they must return 10 hours after the time of insertion, so that their body's aging process can occur naturally. Failing to follow this procedure, the chrononaut could easily die of old age after only a year of service.

He makes a final check of his thermo one-piece suit. Made of nano-material, the molecular structure of the fabric is made up of billions of nano-machines capable of altering the surface of the fabric, resulting in a seamless protection against the elements. Before sealing his suit, he picks up the last and most important piece of equipment. This single piece of equipment will ensure he returns safely to "his" time, but also taking into account the elapse time during his mission.

He ensures that the power reserve is at its 50 hour maximum—there's a possibility that he may pass out in the time vortex. He then carefully calibrates the instrument with the atomic clock in the chamber—time, day, and date. Finally, the upper crown is pulled out and the time is adjusted for the destination—10 hours into the future.

Exactly 200 years earlier, the first watch to be worn on the Moon was a manual-wound chronograph, due to the fact that the stopwatch function is essential for calculating flight trajectory. In the 22nd Century, time travels necessitates dual time-zones functionality. Furthermore, the controlled fusion process, which provides gargantuan amount of energy needed to warp the fabric of time, also generates a strong electromagnetic pulse (EMP) that can fry circuit boards on quartz, solar-powered, and even Spring Drive, watches. Thus, only mechanical GMT watches are ICA-Qualified for Time Travel Missions. While the Swiss may have been the first to invent GMT watches, they did not stand a chance against Japan in the Time Race that began around 2150 AD.

The silence is broken by a low-pitched drone of the fusion reactor. He puts on this timepiece as the one-minute countdown commences, and walks into the chronoporter. Immediately, the nano-material of his suit and left-hand glove seal up the Seiko GMT on his wrist…
...A rather long lead-in to a review that is best described as the cocktail between two earlier reviews I had written. Many of you may have already read about my fascination with dual time-zone watches in
From Another Time
(
http://www.timekeeper.co.nz/viewtopic.php?f=20&t=476
). There, I contemplated about the notion of journey made and yet to be made, and of yearning to reach across the meridians. Our interest with time travel, as apparent in many mediums of popular culture, could perhaps be interpreted as our wish to reach across the fabric of time itself.
The following is also a story, though not a fictional one. This is the chronicle of Seiko's GMT watches.
No GMT story is complete without the mention of the first
Rolex GMT Master
, introduced in 1954, and used in aviation for tracking Greenwich Mean Time (GMT), which was the reason for the namesake. In the early 1970s, the aviation industry standards switched to Universal Time Coordinate (UTC) as the reference time zone for pilots, though the GMT Master retained it name until the present day.
A decade after the release of the Rolex, Japan was host of the Tokyo Olympics (1964) for which the Official Timer was Seiko. To commemorate the momentous World gathering,
Suwa Seikosha
introduced a befitting timepiece--the
6217-7000 World Time
(MASWT), Seiko's first GMT watch.
1964 6217-7000 World Time
(
Image source: Watch CTI
)
MASWT stood for MAchiku Self-dater World Time ("Machiku" referred to
automatic
in English), and is based on the 17 jewel Cal. 6217A. The rather odd thing about this movement was that it was made in two different versions—a base calibre with a regular 3-hand setup, and the other with a 4th 24-hr complications. The base 6217A was, of course, immortalized when a year later, in 1965, it equipped Seiko's first Diver's watch—the famous 6217-8000 (62MAS). The additional hand on the 6217 World Time is calibrated to the hour hand, as was the case in the original Rolex GMT Master. Seiko's first GMT is now considered very rare.
The late 1960s saw a new family of automatic movement become part of Suwa's production line. A family of automatic that would encompass a large variety of configurations, from simple robust calibres that powered Divers, to column-wheel chronographs, to some of Seiko's best ever movements that equipped the Grand Seiko. This historic family was none other than the 61xx.
Among those with complications is the Cal. 6117A with a 4th GMT hand, again running off the hour hand. Released in 1968, the 6117 World Time was accompanied by the 6117 Navigator Timer. It was followed, a few years later, by Cal. 6117B with hacking.
1969 6117-8000 Navigator Timer
6117-6410 Navigator Timer
(
Image source: evertonian61, WUS
)
So far, we've looked at two of Seiko's earlier GMTs offerings that have been watches equipped with fairly standard-grade movements. Both 6217 and 6117 had been derived from their respective base calibres, with an additional wheel and hand to provide dual-time functionality. They occupy Seiko's mid-range offerings, along side the
LordMatic
(LM) during most of the 60s and 70s. In 1972, another GMT of a higher grade was introduced based on the 56 Stream, also produced by Suwa.
The
5619-70xx DuoTime
was equipped with a high-grade 23 jewel calibre, beating at 21'600 A/hr, with micro-regulator, auxiliary hand-winding, hacking.
1972 561

9-7000 DuoTime
(
Image source: sweephand, SCWF
)
The 5619 shares the same base movement as
56 King Seiko Chronometer
and
56 Grand Seiko
. The GMT hand can be adjusted independently, as those on the Rolex GMT Master II. The movement is adjusted to Seiko "C" Accuracy Grade (-15/+25), and was considered technically superior to most contemporary high-grade movement from Seiko. The 5619 DuoTime is very rare to find nowadays and even harder to find in good condition.
In keeping with Seiko's push for internal competition among its two production houses at the time,
Daini Seikosha
offered another version of the Lord Matic during the same period. Daini's LM is equipped with another high-grade movement, the 5206 that formed the base calibre of the 52 Stream--Daini's last stance against the impending onslaught of quartz technology that Seiko themselves brought to the watch world. Even in base calibre form, the 52 has 25 jewels, hi-beat 28'800 A/hr, micro-regulator, auxiliary hand-winding, hacking, with Seiko "C" Accuracy Grade. In its top form (1973 KS Vanac Special), the 52 was adjusted to
GS Standard
grade ("AA" Accuracy Grade—to learn more about
Grand Seiko
, please see:
http://timekeeper.co.nz/viewtopic.php?f=10&t=333
). In 1992, the 52 was re-designated the
4S Series
.
The return of the 52 came about as the early 1990s ushered in the Mechanical Renaissance, and the increased popularity of Swiss mechanical watches in Japan prompted Seiko to return to fine mechanical watch manufacturing. High-grade mechanical movements made by Seiko Japan would compete with the Swiss in the quality and luxury market. I believe that the challenge faced by
Seiko Instruments Inc
(SII--the new name of Daini Seikosha) in 1991 to research and develop a new high-grade movement in time for it to secure a foothold at the dawn of the Mechanical Renaissance was the reason it chose to resurrect its Cal. 52. While the 52 did not feature a dual time-zone movement, its reincarnate, the 4S line of movements did.
Here's a brief chronicle of the
4S Series
, and its GMT evolution
1970 Cal. 5206 LORD MATIC (LM)
1971 Cal. 5246 KING SEIKO (KS) Vanac
1971 Cal. 5246 KING SEIKO (KS) Chronometer
1972 Cal. 5206 LM Special
1973 Cal. 5256 KING SEIKO (KS) Vanac Special
1976 52 Stream discontinued
-----------------------------------------------------
1992 52 resurrected and re-designated 4S
1992 4S35
1995 4S15 Alpinist, 4S15 Titanium Diver
1996 4S15 SUS Military
1996 4S77 CREDOR Retrograde (GMT)
1997 4S12 SUS (GMT)
1997 4S15 Alpinist, SUS, and Titanium Diver discontinued
1998 4S12 SUS discontinued
2000 KING SEIKO 4S15 Historical Re-issue LE
2002 4S Series now limited to BRIGHTZ and CREDOR
2003 4S27 BRIGHTZ
2004 4S76 CREDOR Node
2007 4S Series now limited to CREDOR
2007 4S36 GMT Retrograde
All 4S feature Hi-Beat 28'800 A/h movement, with integrated auto-winding--thinner in profile compared to a modular system, and allows the case to be made thinner. Thermo-compensating balance and hair-spring come standard with the base caliber, while the higher beat rate (for Seiko) allows it to be adjusted to higher tolerance. The movement also hacks and hand-winds. The
4S35
is best compared to the ETA 2892 in
Top
execution, and if it were Swiss, would likely be considered a
Tracteur
. Both ETA 2892 and Seiko 4S were not made to be, but rather, born chronometers.
In 1996, the day had come for the 52, now designated 4S, to be fitted with a 24-hr hand. The
4S77
equipped the
Credor 4S77 Retrograde
, which was at the time a sub-brand of Seiko, making high-grade mechanical watches with innovative, more youthful, styling (
Credor
is now a stand-alone brand of Seiko, positioned in the Mid-Range Luxury, similar to Grand Seiko. Contrary to popular misconception,
Mid-Range Luxury
would include brands like Rolex, Breitling, and Panerai, as none of these are true High-End. While Grand Seiko represents high-precision and tradition, Credor is more innovative in both styling the use of material). The 4S77 houses the GMT hand in a sub-dial, but can be adjusted independent of the main Hour hand.
1996 4S77 Credor Retrograde
(
Image source: samurayushka.ru
)
The 4S77 features
Retrograde
Day Indicator, where the indicating hand completes a 180 degree journey before flying back instantaneously to begin its travel. Incorporating such a complication in place of a typical display, in which the hand completes a full revolution, involves a higher level of complexity, as the hand movement is the opposite direction to the rest of the hands on the dial. Costly to produce, the Retrograde is usually limited to watches from high-end brands. The above 4S77 retailed in the mid-90s for the equivalent of approximately NZ$4,400.
The other was the
4S12 SUS
, produced in 1997, and featured a 4th GMT hand that runs off the hour hand, and is non-independent.
1997 4S12 SUS (GMT)
(
Image source: Watch-Colle
)
It was in this same year that Seiko Instruments Inc (SII) opened its high-grade mechanical watch assembly workshop in Morioka, Iwate Prefecture. A year later, in 1998, the Grand Seiko was revived, after almost a quarter of a century absence. However, it was not until 2004 that things fell into place and the now highly revered
Shizukuishi Watch Studio
opened its doors.
A shear contrast from the robotic assembly line of SII's factories, only 20 master watchmakers make up the Shizukuishi Studio. Together, they are responsible for assembling 5 series of high-grade mechanical watches (21 calibres in total). The movements made by Shizukuishi studio are limited to those in Series 4S, 6S, 9S, 68, and 8L. Every single part of these movements, including the balance spring, is made within SII, and every module hand-assembled by the 20 master watchmakers. Each week, around 290 mechanical watches leaves Shizukuishi, the majority of which are Grand Seiko, Credor, as well as mechanical Ananta, Brightz, and Marinemaster.
It was this watch studio that gave Grand Seiko its first ever GMT complication.
2002 Grand Seiko 9S56 Automatic GMT SBGM001
Not long after, the 4S77 that had resided in the Credor was simplified, resulting in the
4S27
that equipped Brightz Automatic, with 24-hour complications—on a sub-dial, as with the 4S77. 4S27 retains the Retrograde Date, but has a lower accuracy grade than the 4S77 it was derived from.
2003 4S27 Brightz Retrograde
(
Image source: tok2.com
)
The 4S reached its peak form in 2004. The
4S76
is the highest gr
ade 4S Series, and incorporates 4 different types of complications--Independent GMT, Power Reserve, Retrograde Day, and Date Indicator. The 31 jewels gilded movement equips the current
Credor 4S76 Node
.
2004 Credor 4S76 Node Retrograde
The price of Credor Node 4S76, depending on the specific model, range from 441,000 Yen (NZ$7,300) for the GCBT005 pictured above to 1,785,000 Yen (NZ$29,600) for a GBBT999.
With its legacy of equipping, not only BO chronometers, but beyond-chronometer
KS Vanac Special
of 1970s, the pedigree of the 4S Series proves what a well-engineered calibre can achieve. What started in the mid-90s as the 4S15 that
temporally
equipped mid-range watches (while Seiko develops the
6R15
for such purpose), within a space of a decade, has become one of SII's top mechanical movements. Indeed by 2007, the 4S Series had been discontinued in Brightz, and now only available under Credor. All 4S are hand-assembled at Shizukuishi Studio, alongside that likes of 9S Series destined for Grand Seiko.
It was also in 2007 that the latest addition to the 4S family was conceived at Shizukuishi. "Conceive" might not be the most appropriate word to use, as the new calibre was, in fact, an
undecorated
version of the 4S76, with identical technical specifications, as well as identical accuracy range (-10/+15 sec per day). The hand-assembled 31 jewel, 28'800 A/hr movement features Independent GMT-hand, Power Reserve, Retrograde Day, and Date Indicator. This calibre is known as
4S36
, and along with the 4S76, are the highest grade non-GS mechanical movements produced by Seiko.
The brief of the 4S36 was simple: to be the flagship of the Seiko Mechanical product line. The only models of watch currently offered with this latest 4S are the SARN001 (black dial on bracelet) and SARN003 (blue dial on straps), both referred to collectively as
SARN
. They are the only watches in Seiko Mechanical line that are made by the Shizukuishi Watch Studio in Morioka.
This finally brings us to a recent acquisition:
Seiko 4S36 Automatic GMT Retrograde (SARN001)
: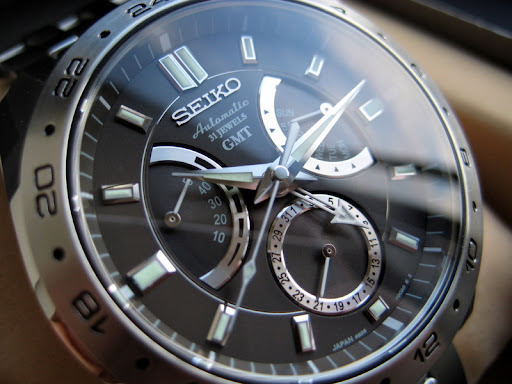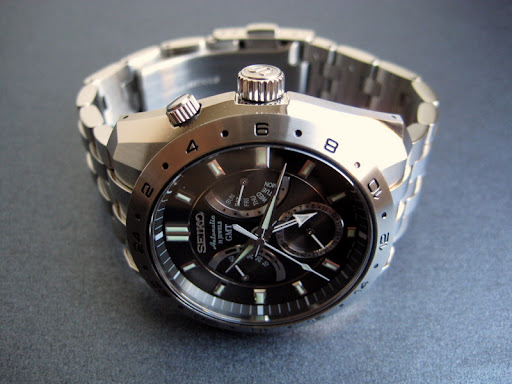 SPECIFICATIONS
Movement:
Seiko Automatic Calibre 4S36, 31 Jewels, 28'800 A/hr, Integrated auto-winding, Micro-regulator, Diafix shock absorption, Thermo-compensating balance and hairspring, Auxiliary manual-winding, Hacking, GMT complications (independent), Date indicator, Retrograde Day, 50-hour power reserve with indicator, Accuracy range -10/+15 sec per day
Case:
Stainless steel (diameter: 40 mm excl. crown, thickness: 13 mm), 24 hour index bezel, screw-in exhibition case back, anti-magnetic
Crystal:
Sapphire Crystal, domed profile, with dual-antireflective coating
Dial:
Charcoal with LumiBrite indices and polished steel hands
Bracelet:
Stainless steel with push-release clasp
Weight:
168g
Manufactured:
By S
hizukuishi Watch Studio
, Japan (for Japan domestic market only)
MSRP:
262,500 JPY
Despite the difference in external design, Credor 4S76 Node Retrograde (on the left) shares identical technical specifications for the movement as the Seiko 4S36 GMT Retrograde (on the right).
Note the 4S trademark twin cap jewels and microregulator.
Colimaconnee décor
on the rotor is a Seiko tradition.
I remember the first time that I had saw photos of Cal. 4S36. My initial thought was that it was, well,
plain
and short of what I would expect from a $4k watch, and in particular, one with a display case back. The reason for this is that I, like most of you, have grown up with Swiss watches. For the Swiss, higher quality movement usually comes with higher level of finish, or décor. Movement manufacturers like ETA offer each of their calibres in 3 or 4 different grades or executions. While each grade denotes levels of adjustment and accuracy range, the higher the execution, the higher the décor. This is to the point that one can make a reasonable guess about the grade of a Swiss movement simply by inspecting it.
To appreciate the value of the visual execution of the 4S36 is to appreciate the profound messages it carries. Although hand-assembled in one of the world's most modern watch studio, the visual aspect of the calibre adhere to its roots—the 52 Stream—and in doing so it subtly suggest Seiko's tradition and conveys the horological lineage that forged the 4S.
Cal. 5246A
that powered
King Seiko Hi-Beat Chronometer
of 1971
(
Image source: Randall Benson, SCWF
)
Precise and without embellishment, the movement's visual tone embodies much of what Seiko stand for--simple, being exactly what it's meant to be, without pretense. I am glad that the good people at Shizukuishi Watch Studio have kept the look of the original 52, as if to say
this is who we were, and this is who we are
. This precise simplicity, without overt elaboration, also reflects the Japanese aesthetic idea that form the
Principle of Zen Aesthetics
, known as
Shibui
.
One thing that divides opinions is the dial. Upon seeing catalogue pictures of the 4S36 GMT, some have commented on the busyness of the dial, and I do not disagree. However, high complications timepieces rarely have the luxury of at-a-glance simplicity.
While the Seiko literature describes the theme as that of
symmetry
, I wonder if whether symmetry is the right word. Sure, in static snapshot, the dial elements can be seen as having almost mirror image symmetry, but a watch dial is hardly static when functioning,
and even less so in a multi-complications dial with Retrograde, where hands traverse different corners the dial, in sometimes opposing directions. Static symmetry becomes dynamic asymmetry, creating irregularity in form, yet still balanced in composition. It is this asymmetrical balance that it referred to in Zen aesthetics principles as
Fukinsei
.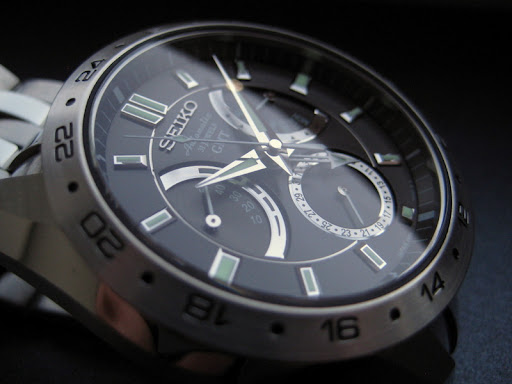 Before we look at the 4S36 SARN001's case, let's take a trip back to the late 1960s.
1968 Seiko Automatic Hi-Beat Professional 300m Diver
(6159-7001)
(
Image source: Randall Benson, SCWF
)
1969 King Seiko (KS) Hi-Beat Superior Chronometer
(5626-7040)
(
Image source: Watch & Jewelry Sato
)
The former was re-issued in 2000 as
Seiko Automatic Professional 300m Diver Historical Collection
(SBDX003)
(
Image source: Bibendum, Philippine Watch Club
)
Notice in all three, Seiko used a complex geometric arrangement of flat surfaces—matte and reflective—that have a slight one-way curvature. The case looks sculptured, chiselled, yet at the same time, the soft profile conveys gentleness and subtlety. It's a great composition that achieves both modernism and classic undertones, and conveys
strength in gentleness
.
We see how Seiko has evolved this duality in the
Marinemaster Automatic Professional 300m
(SBDX001), as well as the
Marinemaster Professional 600m Spring Drive
(SBDB001)
(
Image source: Adrianto, 20S
)
(
Image source: Watch-Tanaka
)
The case lines have now become wonderfully sharp and complex, with a mix of convex and concave surfaces. The sculptured fluidity now characterizes the case of many high-grade Seiko, not only in the Marinemaster, but also in many Grand Seiko (GS).
In the 4S36, the designers added further definition to the case lineage, this time by utilizing
Sallaz
polishing, a technique employed by watch artisans to achieve unparalleled level of beauty and brilliance of the mirror finish. The technique requires an extremely high-level of skill in manipulating the tool in smooth unbroken strokes, and is thus labour-intensive and time-consuming. This type of case finishing can be found among GS watches.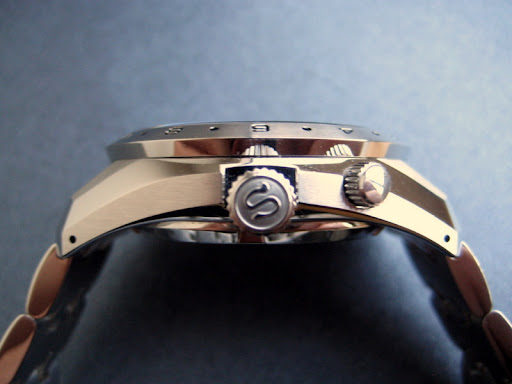 The design of the fixed 24-hr bezel on the SARN001...
...adopt that of the
Grand Seiko Automatic GMT
(SBGM001)
(
Image source: Larry Seiden, The Purist
)
Despite being in its 4th year of production, very little has been written on the SARN001 outside of Japan. Once posted, this review will be the first in the English speaking world. This 4S36 GMT Retrograde is the only piece I know of that exists among the world's watch forums. Given the product positioning of this GMT Retrograde, it is hardly surprising.
Even in the Japanese domestic market, where Seiko Mechanical line compete in the entry level luxury market, this flagship 4S36, priced at 262,500 Yen, sits squarely in basic luxury territory, competing with strong Swiss brands like Omega and TAG Heuer. I do not believe that Seiko has sold many 4S36s, currently exclusive to the SARN, but then again, I doubt if that is the Japanese brand's intention. Flagship serves as a masterpiece showcase of technical prowess and to uplift the product line, the same way that Cal. 9T82, the top of the range Kinetic chronograph, will never sell in abundance. With both movements being hand assembled (9T82 is made at Shinshu Artisan Time Studio, alongside Spring Drive movements), the limited production capacity also means there will never many pieces produced in the first place.
The 4S36 GMT Retrograde is not for everyone. In fact, it is probably not even for most people. For the same money, most would opt to buy a Breitling Aeromarine Colt Automatic GMT… and still have enough cash left for a Seiko SKX779 Monster. Even Seiko enthusiasts would more likely opt for a Seiko 8R28 Brightz Phoenix, a Seiko Ananta 8R28 Automatic Chronograph (both similarly priced), or a Marinemaster Automatic 300m SBDX001 (with cash to spare). But for those whom the 4S36 GMT beckons, the watch embodies all that is Seiko, from its enigmatic 4S calibre, here in the highest grade non-GS mechanical movement currently produced by Seiko, to the legacy subtly suggested by its case. All mirroring Japanese traditional aesthetic ideals.
Here is a creation from one of the very few true manufacture of the horology world. For the cost of a mid-range Omega, one gets the horological lineage, historical legacy, ownership proposition and exclusivity to the likes of A Lange & Sohne, and unmatched by any Rolex in production today. The honesty and lack of pretence of the Seiko brand, along with the focussed dedication to excellence of the folks who assemble this watch at the Shizukuishi Studio, makes the piece even more special, more endearing, and something that make you feel good to own.
While this timepiece is not the most expensive that I have owned, it is one that--though not perfect--comes closest to everything that I want in a watch. Closest to what I look for in a lifelong companion.